93 Piece XXL3 PRO Tool Kit
Wiha Pro Rewards members earn $46.30 USD worth of points.
Sign up for Pro Rewards to start earning points.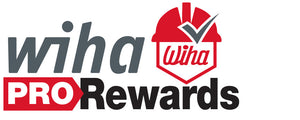 Many professionals require a large number of tools and often must move to several different work locations. It's also true they need a durable hard case that keeps their tools organized and safe from weather and job site elements. Wiha has the solution with the 93 Piece XXL3 Rolling Tool Kit. The 93 Piece XXL3 PRO Tool Kit includes a comprehensive set of "Wiha Pro-customer favorites" to build a high-value professional toolset ready to work for you. See the list below for a complete listing. 
The XXL3 Rolling Tool Box offers enormous storage space with over 100 storage compartments coupled with lightweight and robust polypropylene construction for durable everyday use. Maneuvering the tool box is no problem with top and side grab handles for one or two-handed lifting and carrying. Have a long way to walk to the worksite? Thanks to the 42-inch extendable pull handle and extra-large wheels it's easy to conveniently pull the tool box while climbing stairs and traversing rough terrain. The legs can be folded out, turning the tool box into a stable step-stool, seat, or elevated work-station to allow comfortable and strain-free removal of tools. On top of the lid find V-shaped channels with inch and metric rulers to facilitate cutting material, such as electrical conduits, at the worksite. Need some light? The inside of the lid and the extendable pull handle feature strategically placed metal base plates for mounting your magnetized work light. Made of durable polypropylene for everyday use, the tool box also features gas-filled lid struts for holding the lid open for convenient access and an air-tight, water-resistant lid seal for tool protection.
Set Includes: 5 Piece PicoFinish Precision Screwdriver Set | Slotted 6.5 x 100mm | Square #2 x 150mm | X Heavy Duty Slotted 8.0 x 150mm | X Heavy Duty Slotted 12.0 x 200mm | X Heavy Duty Phillips #2 x 100mm | 14inOne SoftFinish® Stubby Multi-Bit Driver | SoftFinish® 11inOne Multi-Driver | Classic Grip Long Nose Pliers 8" | Classic Grip BiCut SuperCut 8.0" | Classic Grip Auto Pliers 10.0" | Classic Grip End Cutting Nippers 8.0" | 9 Piece MagicRing® Ball End Hex L-Key Set - Metric | 13 Piece MagicRing® Ball End Hex L-Key Set - Inch | 6 Piece Color Coded Magnetic Nut Setter Set | 35 Piece 1/4" Ratchet and Bit Set | 7 Piece MaxxTor® Impact Bit Buddy Set | XXL3 Rolling Tool Case
Heavy-duty construction for durable everyday use
Over 100 storage compartments for structured and organized storage
Gas-filled lid struts for holding lid open for convenient access
Extra-large wheels for traversing stairs and rough terrain
Fold-out legs for a convenient seat or elevated work-station
Slide-out step for a stable and convenient step-ladder configuration
V-channels with inch and metric rulers for on the spot cutting
Top and side grab handles for easy maneuvering
Padlock compatible for security
Large base compartment with removable dividers for extra storage space
External Dimensions 26.5" x 13.25" x 19.5"
Internal Dimensions 6.25d" x 23.25" x 15.5"
Backed by the No Hassle Guarantee
SKU: 91567
UPC: 084705915678
Weight lb: 49.65 lb
Country of Origin: Israel
Product Depth Inches: 17.00"
Product Width Inches: 20.60"
Product Height Inches: 27.30"
Packaging: Box
SKU: 91567
Weight lb: 49.65 lb
UPC: 084705915678