36 Piece GoBox Precision Micro Bit Set
Wiha Pro Rewards members earn 1 point per $1 spent.
Sign up for Pro Rewards to start earning points.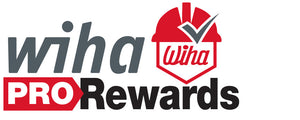 The Wiha GoBox 36 Piece Precision Micro Bit set contains Slotted, Phillips, Hex, Torx, Pentalobe, Standoff, and Y-Type micro bits of various sizes. Wiha Tools micro bits are made of premium quality steel for strength and durability. Wiha bits feature exact-fit precision machined tips for reduced cam-out of fastener heads. This Wihabit set comes with 3.9"/100mm PicoFinish Micro Bit handle with a finger control rotating cap for rapid rotation and an extra-long cap for optimal hand positions and smooth turning. The compact micro bit set is conveniently stored in a small metal case that fits in your pocket for easy portability.
Set Includes: Slotted 0.8, 1.5, 2.0, 2.5, 3.0, 3.5, 4.0mm | Phillips #000, #00, #0, #1 | Hex 0.9, 1.3, 1.5, 2.0, 1/16, 3/32, 1/8 | Torx T3, T4, T5, T6, T7, T8, T9, T10, T15, T20 | Pentalobe PL1. PL2, PL4, PL5 | Standoff #00 | Y-Type #000 | PicoFinish micro bit handle 3.9"/100mm | Magnetic micro bit holder 28mm x 100mm
Packed in a compact durable molded storage box
PicoFinish micro bit handle 4mm x 3.9"/100mm
Micro bit holder 28mm x 100mm
Finger control rotating cap
Precision matched exact fit tips
CRM 72 premium tool steel
Micro Bits have a 4mm hex drive
Box Dimensions: 4.25 x 1.75 x 1.25
SKU: 75958
UPC: 084705759586
Weight lb: 0.5 lb
Country of Origin: Vietnam
Product Depth Inches: 4.25"
Product Width Inches: 1.75"
Product Height Inches: 1.25"
Packaging: Clamshell
Overall Length Inches: 4.25″
Overall Length Millimeters: 107.95
SKU: 75958
Weight lb: 0.5 lb
UPC: 084705759586