SoftFinish 6inOne Multi-Driver
Wiha Pro Rewards members earn 1 point per $1 spent.
Sign up for Pro Rewards to start earning points.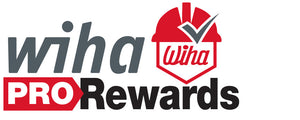 The Wiha 6inOne Multi-Driver includes double-ended phillips #1, #2, doubled-ended slotted 3/16", 1/4", and double-ended nut driver 1/4", 5/16". Wiha 6inOne Multi-Drivers are the standard for premium quality professional multi-drivers featuring ergonomic cushion grip handles for comfort and control, dual durometer construction for long-lasting durability, includes parallel flats to prevent table-top roll-off, and offers an interchangeable bit and nut driver receiver system for multi-tool adaptivity.  
Wiha 6inOne Multi-Drivers include 4 essential screwdriver and 2 nut driver tip profiles for efficient tool carry, consist of Wiha premium quality tool steel engineered for strength and durability that feature exact fit precision machined tips to reduce cam-out of fastener heads. The nut driver component is chrome plated and the double-ended bits have a phosphate finished for corrosion protection and surface resilience. With the Wiha 6inOne Multi-Driver, you have a trusted companion at the ready for nearly any driver application you face on the jobsite or at home. You can buy with confidence knowing that the 6inOne Multi-Driver is backed by the Wiha No Hassle Guarantee.
Components Included: Nut Driver 1/4", 5/16" | Slotted 3/16", 1/4" | Phillips #1, #2 | SoftFinish® Cushion Grip Handle
SoftFinish® cushion grip handle for comfort and control
Handle direct molded to blade for permanent bond
Handle sized proportionate to blade for consistent mechanical advantage
4 essential screwdriver and 2 nut driver tip profiles for efficient tool carry
Dual durometer construction for long-lasting durability
Interchangeable blade receiver for multi-tool adaptivity
Wiha premium quality tool steel for strength and durability
Parallel flats for roll-off prevention
THIS ITEM IS NOT COMPATIBLE WITH THE SOFTFINISH® 11inONE
Replacement parts for 6inOne SoftFinish® Multi-Driver (77800)
Backed by the Wiha No Hassle Guarantee
Manufactured in Monticello, Minnesota USA
SKU: 77890
UPC: 084705778907
Weight lb: 0.47 lb
Country of Origin: United States
Product Depth Inches: 8.5"
Product Width Inches: 1.5"
Product Height Inches: 1.5"
Packaging: Clamshell
SKU: 77890
Weight lb: 0.47 lb
UPC: 084705778907
Set Items:
Wiha 77800 - 6inOne Multi-Driver Replacement Parts