SoftFinish Conduit Reamer and 6inOne Multi-Driver Combo
Wiha Pro Rewards members earn 1 point per $1 spent.
Sign up for Pro Rewards to start earning points.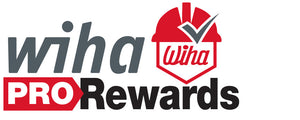 Wiha SoftFinish Conduit Reamer and 6inOne Multi-Driver Combo is the quality standard among premium multi-driver tools. Wiha 6 in one tool features an ergonomic cushion grip handle for comfort and control, dual durometer construction for long-lasting durability, parallel flats to prevent table-top roll-off, and an interchangeable bit & nut driver receiver system for multi-tool adaptivity. The Wiha Conduit Reamer can ream and smooth 1/2-inch, 3/4-inch, and 1-inch conduit ends both inside and out to protect wire insulation and a proper fit for installation. The reamer features a shrouded slotted driver tip to prevent slipping of the fastener head when tightening hard-to-reach conduit fittings. The nut driver component is chrome plated and the double-ended bits have a phosphate finish for corrosion protection and surface resilience. You can trust Wiha Tool's premium quality for strength and durability that feature exact fit precision tips to reduce cam-out of fastener heads. With the Wiha Conduit Reamer and 6inOne Multi-Driver, you have a trusted companion ready for HVAC or any driver application you face on the job site or at home.
Set Includes: Doubled-ended Phillips #1, #2 | Slotted 3/16, 1/4" | Nut Driver 1/4, 5/16" | Conduit Reamer
Cushion grip handle for comfort and control
Dual durometer construction for long-lasting durability
Parallel flats for roll-off prevention
Interchangeable blade receiver for multi-tool adaptivity
Wiha premium quality tool steel for strength and durability
Spring-loaded detent ball locking feature for secure lock between handle and insert
Reams 1/2 inch, 3/4 inch, and 1 inch conduit for smooth edges and proper fit
Reams both the inside and outside edges for consistent efficiency
Replaceable reaming blade for maintaining high performance
Designed to be specifically used for Electrical Metallic Tubing (EMT) Conduit
Manufactured in Monticello, MN with global components
Backed by the Wiha No Hassle Guarantee
*THIS ITEM IS NOT COMPATIBLE WITH THE SOFTFINISH 11inONE
SKU: 77892
UPC: 084705778921
Weight lb: 0.75 lb
Country of Origin: United States
Product Depth Inches: 7.875"
Product Width Inches: 1.5"
Product Height Inches: 1.4"
Overall Length Inches: 7.875″
Overall Length Millimeters: 200
SKU: 77892
Weight lb: 0.75 lb
UPC: 084705778921