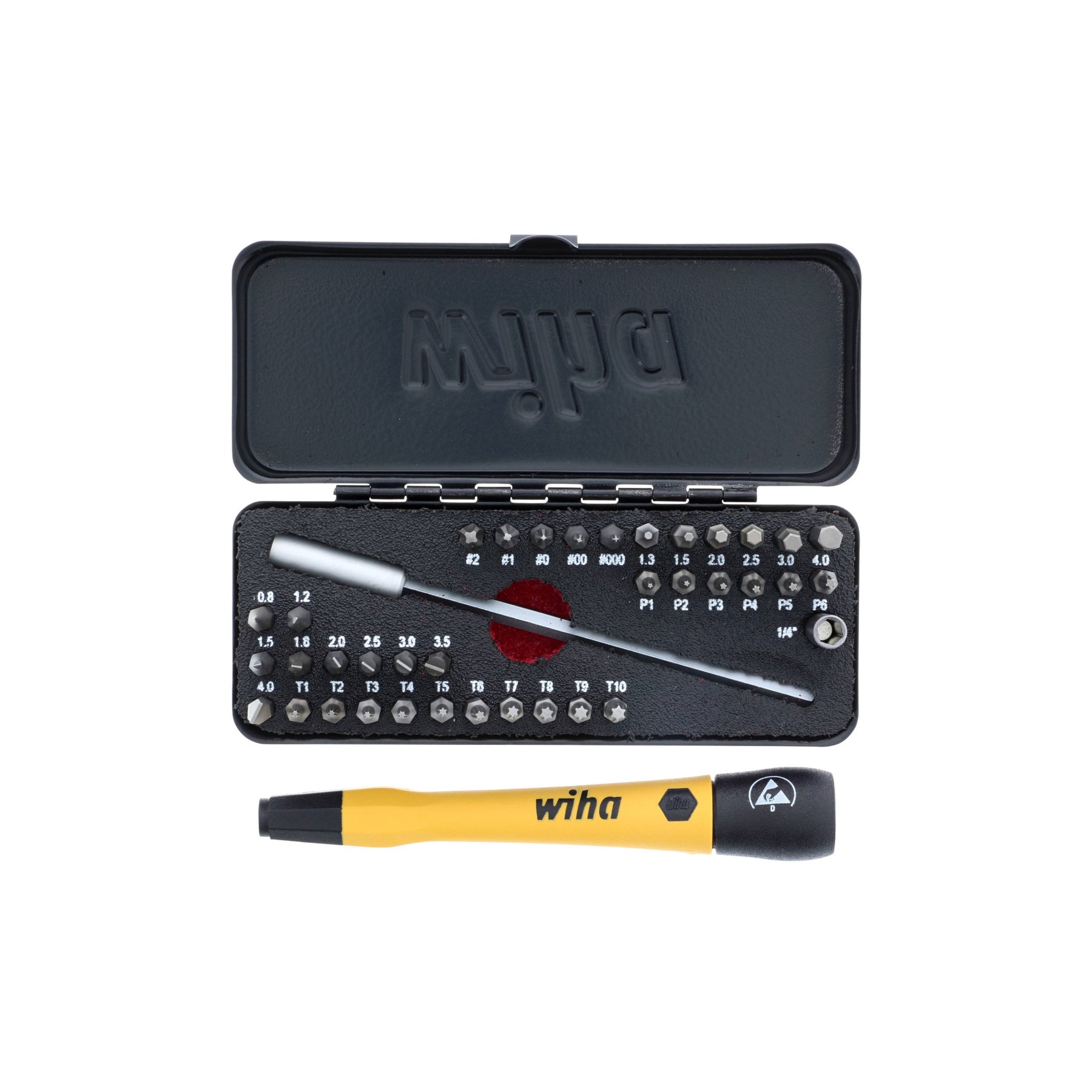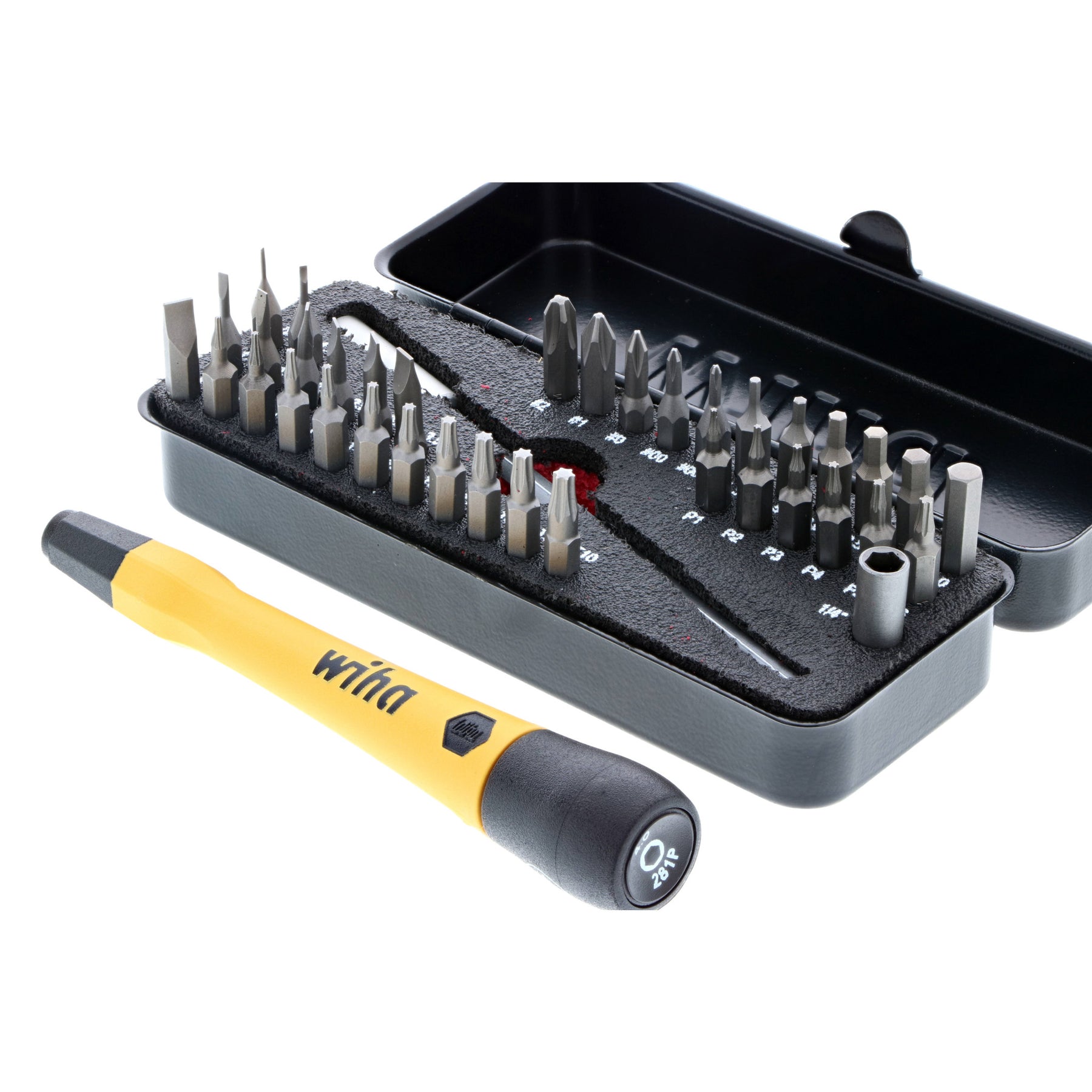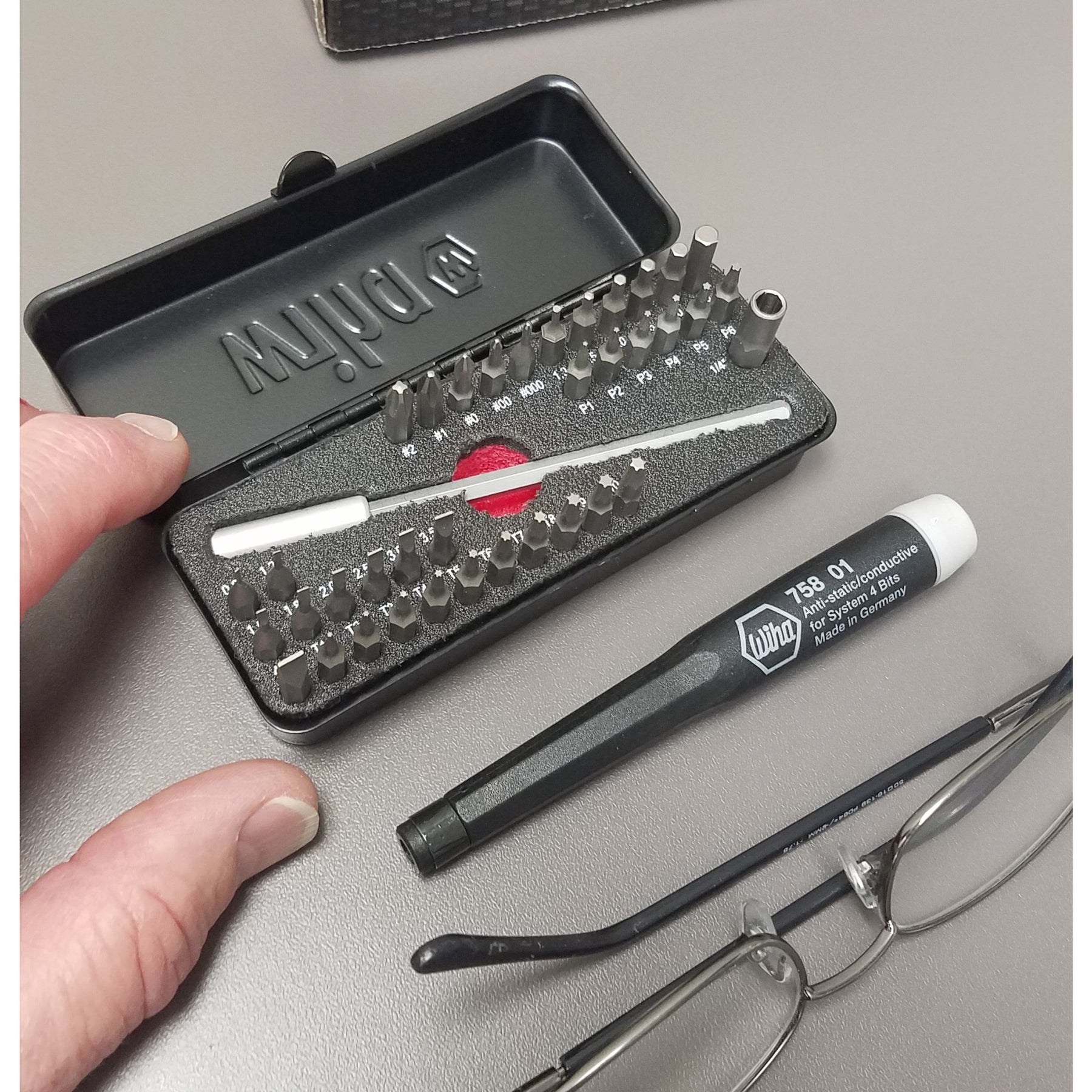 39 Piece GoBox ESD Safe Micro Bits Set
Wiha Pro Rewards members earn $3.20 USD worth of points.
Sign up for Pro Rewards to start earning points.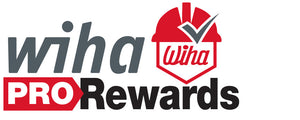 Wiha's 39 Piece GoBox ESD Safe MicroBits Set has the tools to get the job done. The set contains an intelligent selection of micro bits including: Slotted, Phillips, Hex Metric, Torx®, and Pentalobe. The set is equipped with ESD safe MicroBit handle, a 4" MicroBit Extension, and a magnetic hex MicroBit adapter offering the convenience to adapt the tool's configuration. All of the tools come conveniently packaged in a pocketsize secure clasped metal case for easy identification and storage. The set consist of Wiha premium quality tool steel engineered for strength and durability, have a chrome-plated satin finish for corrosion protection, and feature exact fit precision machined tips for reduced cam-out. Wiha ESD safe precision tools meet ESD Standard IEC 61340-5-1 for protecting electronic devices from electrostatic discharge and have a handle surface resistance of 106 - 109 Ohms for balanced electrostatic dissipation. 
Set Includes: Slotted 0.8, 1.2, 1.5, 1.8, 2.0, 2.5, 3.0, 3.5, 4.0mm | Phillips #000, #00, #0, #1, #2 | Hex Metric 1.3, 1.5, 2.0, 2.5, 3.0, 4.0mm | Torx T1, T2, T3, T4, T5, T6, T7, T8, T9, T10 | Pentalobe PL1, PL2, PL3, PL4, PL5, PL6 | ESD Safe Micro Bit Handle | 100mm/4" - Micro Bit Extension | Magnetic 1/4" Hex Drive Micro Bit Adapter
Meets ESD standard IEC 61340-5-1 for protecting from electrostatic discharge
Packed in a compact durable molded storage box
Micro bit adapter for multi-tool functionality
Hex profile finger grip for precise torque and control
Finger control rotating cap
ESD safe cushion grip handle for comfort, control, and safety
Exact fit precision machined tips for reduced cam-out
Dual durometer construction for long-lasting durability
Wiha premium quality tool steel for strength and durability
SKU: 75980
UPC: 084705759807
Weight lb: 0.4 lb
Country of Origin: Vietnam
Product Depth Inches: 1.25"
Product Width Inches: 2"
Product Height Inches: 7"
Packaging: Vinyl Pouch
SKU: 75980
Weight lb: 0.4 lb
UPC: 084705759807