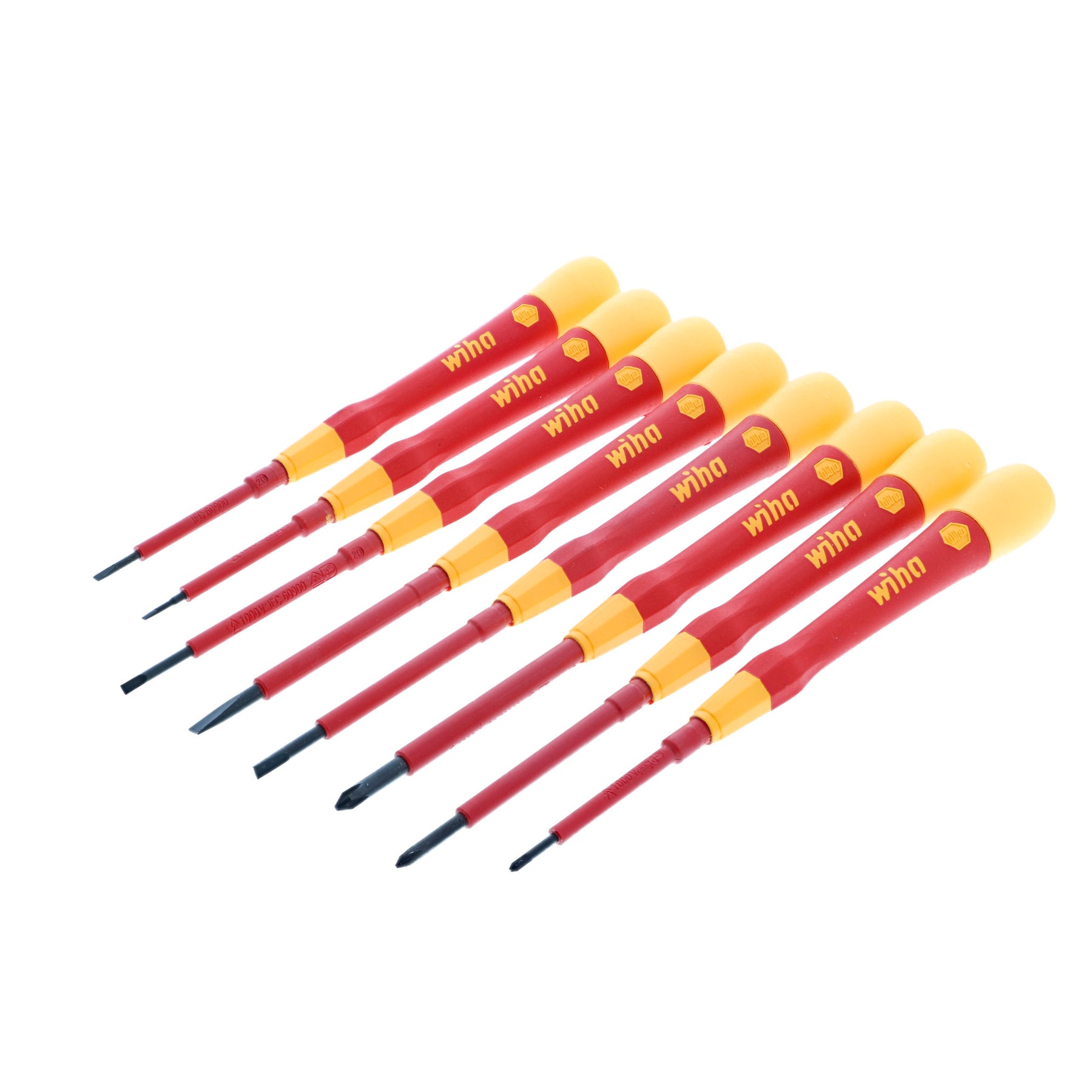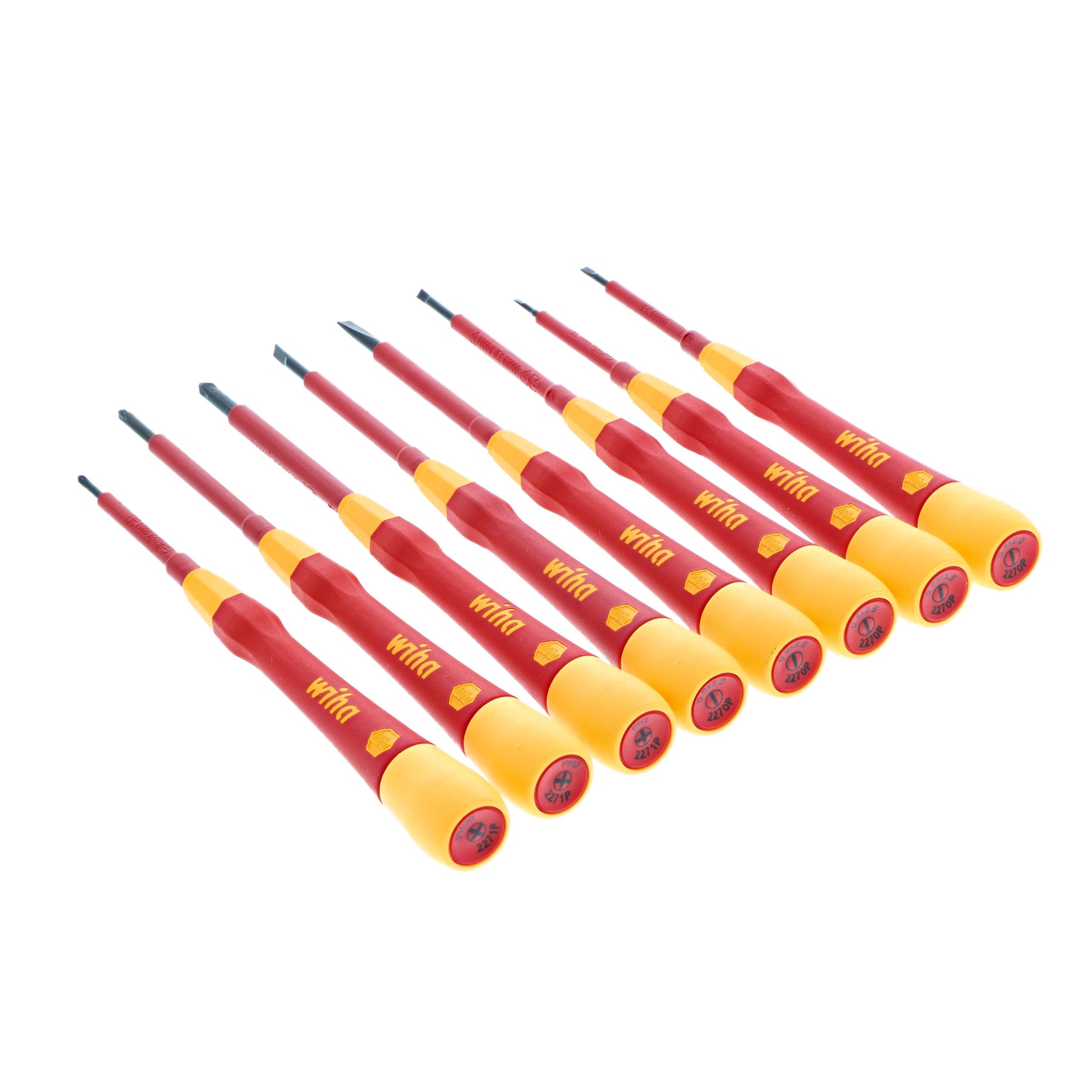 8 Piece Insulated PicoFinish Precision Screwdriver Set
Wiha Pro Rewards members earn $3.85 USD worth of points.
Sign up for Pro Rewards to start earning points.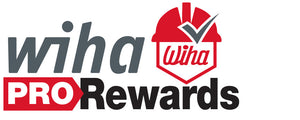 Wiha Insulated PicoFinish Precision Drivers are the standard for premium quality featuring ergonomic cushion grip handles for comfort and control, dual durometer construction for long-lasting durability, and handles directly molded to the blade for a permanent bond. The PicoFinish® style includes a hex profile finger grip for precise torque and control, a tapered handle for rapid rotation, and an extra-long cap for optimal hand positions and smooth turning. The handles are sized proportionately to the blade for consistent mechanical advantage and have driver tip profiles labeled on the cap for easy identification. Wiha Insulated PicoFinish® Precision Drivers consist of Wiha premium quality tool steel engineered for strength and durability, have a black oxide finish for corrosion protection, and feature exact fit precision machined tips for reduced cam-out. Every Wiha insulated tool is individually tested to 10,000 volts AC and rated to 1,000 volts AC (1,500 volts DC) for safety. Wiha Insulated tools are VDE Certified and meet EN/IEC 60900 testing standards for protection against arc flash explosion, ASTM F1505 standards.   Wiha premium quality Insulated PicoFinish® Precision Drivers are designed and engineered by Wiha Germany and Manufactured in Germany. You can invest with confidence knowing that this product is backed by the Wiha No Hassle Guarantee.
Set Includes: Slotted 1.5, 2.0, 2.5, 3.0, 3.5 Phillips #00, #0, #1
Dual durometer construction for long-lasting durability
Handle direct molded to blade for permanent bond
Hex profile finger grip for precise torque and control
Tapered handle for rapid rotation
Extra-long cap for optimal hand positions and smooth turning
Tip profile labeled on cap for easy identification
Handle sized proportionate to blade for consistent mechanical advantage
Wiha engineered premium quality tool steel for strength and durability
Black oxide finish for corrosion protection
Exact fit precision machined tip for reduced cam out
Individually tested to 10,000 volts AC and rated to 1,000 volts AC for safety and peace of mind
Meets VDE testing standards for protection against arc flash explosion
Meets ASTM F1505 standard specifications for insulated and insulating hand tools
Meets EN/IEC 60900 testing standards for protection against arc flash explosion
Meets CSA testing benchmarks for safety and performance
Designed and engineered by Wiha Germany
Manufactured in Germany
Backed by the Wiha No Hassle Guarantee
Insulated PicoFinish 8 Piece Set Slotted 1.5, 2.0, 2.5, 3.0, 3.5 Phillips #00, #0, #1
SKU: 32088
UPC: 084705320885
Weight lb: 0.35 lb
Country of Origin: Germany
Product Depth Inches: 0.8"
Product Width Inches: 6.8"
Product Height Inches: 8"
Packaging: Clamshell
SKU: 32088
Weight lb: 0.35 lb
UPC: 084705320885