Classic Grip BiCut Compound Diagonal Cutters 8"
Wiha Pro Rewards members earn 1 point per $1 spent.
Sign up for Pro Rewards to start earning points.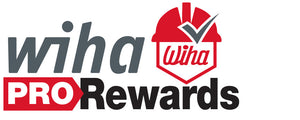 The Wiha BiCut Compound Cutters cut increases your cutting capability with the power button. One cutter does it all, switch from wire to chain at the press of a button. More power cutting with less force required. The 32636 is made from Wiha exclusive C70 premium tool steel for long life. High performance 64 HRC induction hardened cutters and jaws have a 60/40 dynamic joint, and up to 40% less force to complete cuts. The BiCut super cut is eight inches in length. These innovative diagonal cutters will become your go-to cutters from the day you get them.
Double the power at the press of a button
Wiha's patented DynamicJoint® requires 40% less cutting effort and provides longer tool life
Superior fit and finish for little to no break-in period
Classic style soft vinyl grips for comfort and leverage
Grips are oil and solvent resistant for long-lasting service life
Premium quality C70 tool steel for strength and durability
Induction hardened cutting edges and jaws for superior sharpness and longevity | Approximately 64HRC
Standard industrial brushed finish for surface endurance
Heavy duty steel riveted joints to withstand high levels of load
Backed by the Wiha No Hassle Guarantee
SKU: 32636
UPC: 084705326368
Weight lb: 0.72 lb
Country of Origin: Vietnam
Product Depth Inches: 8"
Product Width Inches: 4.5"
Product Height Inches: 1"
Packaging: Vinyl Pouch
SKU: 32636
Weight lb: 0.72 lb
UPC: 084705326368