13 Piece SpeedEII Electric Screwdriver SlimLine Blade Set
Wiha Pro Rewards members earn $12.25 USD worth of points.
Sign up for Pro Rewards to start earning points.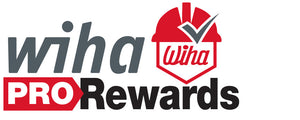 The Wiha Insulated SpeedE®II electric screwdriver is faster, stronger, and more efficient than ever. The SpeedE®II now features two power levels0.4 Nm (3.5 in/lbs.) and 1.0 Nm (8.8 in/lbs.) for an improved range of performance. Upon reaching the torque capacity, simply continue turning fastener by hand using the built-in the ratcheting function to reach the desired tightness and thereby decreasing risk of equipment damage. Change power levels by toggling a switch integrated into a form-fit handle that delivers comfort and control and features a ring light for low-light work environments. Comes with rechargeable lithium-ion batteries for driving up to 800 fasteners per charge—USB charger with plug adapter is included. Every single Wiha insulated tool is individually tested to 10,000 volts AC and rated to 1,000 volts AC (1,500 volts DC) for safety and peace of mind in energized applications. Wiha Insulated tools meet ASTM F1505 standard specifications for insulated and insulating hand tools and CSA testing benchmarks for safety and performance. 
Set Includes: SpeedEII electric handle | 8 SlimLine Blades: Slotted 3.5, 5.5mm Phillips #1 #2 Square #1, #2 Terminal Xeno #1, #2 | Adapter Plug | Battery charger with plug adapter | 2 Replaceable/rechargeable lithium-ion batteries in custom fit storage box
Two power levels: 0.4 Nm (3.5 in/lbs.) and 1.0 Nm (8.8 in/lbs.) for improved range of performance
Torque-ratcheting function for hand-finishing fasteners and damage prevention
Integrated ring-light for low-light work environments
Rechargeable Lithium-Ion Batteries for driving up to 800 fasteners per charge
USB connection charger with plug adapter for versatile charging capabilities
Only compatible with Wiha SlimLine Blades for optimal safety and function
SlimLine Blades, 33% narrower insulation diameter then standard insulated tools
Each SlimLine Blade is individually tested to 10,000 volts AC and rated to 1,000 volts AC
ASTM F1505 standard specifications for insulated and insulating hand tools
CSA testing benchmarks for safety and performance
*SpeedE®II electric screwdriver is only insulated when used with Wiha SlimLine Blades
Backed by the Wiha No Hassle Guarantee
Made in Germany
SKU: 32490
UPC: 084705324906
Weight lb: 2.14 lb
Country of Origin: Germany
Product Depth Inches: 10.25"
Product Width Inches: 6.25"
Product Height Inches: 2.75"
Overall Length Inches: 10.25″
Overall Length Millimeters: 260
SKU: 32490
Weight lb: 2.14 lb
UPC: 084705324906