7 Piece Split Head Mallet Set 40mm
Wiha Pro Rewards members earn $3.00 USD worth of points.
Sign up for Pro Rewards to start earning points.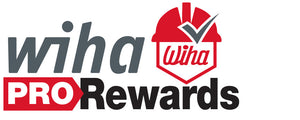 The Wiha Split Head 7 Piece Mallet Set features rugged malleable cast iron heads with a heavy-duty, non-slip hickory handle. This complete set includes five faces including TPE Soft, Latex Rubber MedSoft, Polyurethane MedHard, Cell Acetate Hard, and a Nylon Extra Hard. This set is ideal for construction, woodworking, automotive applications along with many more.
Set Includes: Heavy duty mallet housing, Hickory handle and five 40mm faces
Rugged Malleable Cast Iron heads
Five Head Diameters 1.2" to 3.1"
5 Face Shore Hardness's; D-21 to D-80 Sturdy Hickory Handles
Safety Ribbed Housings for Handle & Faces
Backed by the Wiha No Hassle Guarantee
Multi-Use Mallet Made for construction, woodworking, automotive applications and more
Carefully crafted hickory with non-slip surface
SKU: 83246
UPC: 084705832463
Weight lb: 3.83 lb
Country of Origin: Germany
Product Depth Inches: 12.5"
Product Width Inches: 4.0"
Product Height Inches: 2.0"
SKU: 83246
Weight lb: 3.83 lb
UPC: 084705832463