7 Piece SoftFinish Stubby Bit Holder Set
Wiha Pro Rewards members earn 1 point per $1 spent.
Sign up for Pro Rewards to start earning points.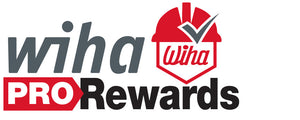 When working in confined work environments, tradesmen require short, manageable screwdrivers which can apply considerable force despite their size. The Stubby short screwdriver with bits is the ideal solution for such conditions. With just 2.5" OAL, this tool is perfect for working in confined spaces. The screwdriver features a bit storage in the handle to securely hold bits with standard screw profiles. The right bit can be quickly and easily selected and taken from the handle. The Soft Finish Stubby Bit Holder allows users to be optimally equipped for all standard fastening types when out on jobs. Wiha SoftFinish Driver Handles are the standard for professional quality. SoftFinish puts maximum surface area in the palm of your hand for powerful torque and less fatigue. Each handle is sized proportionately to its driver blade profile for an optimal turn-force application. Constructed of direct-molded dual durometer materials the SoftFinish driver handle stands up to the heavy everyday use of professionals. Wiha screwdrivers consist of premium-quality tool steel engineered for performance in high-demand environments pros see every day. Each driver blade is precisely heat-treated to delivering years of service life, and the driver tips are precision machined for an exact fit, nearly eliminating the potential for fastener head cam-out.
Set Includes: Slotted 4.5, 6.0mm, Phillips #1, #2, Square #1, #2
Strong bit holding magnet
Store six 1-inch insert bits in cap
Includes 6 essential screwdriver head types for efficient tool carry
SoftFinish cushion grip handle for comfort and control
Wiha premium bits - Exact fit precision machined tip for reduced cam-out
Pocketsize design at 2.5" over all length
Wiha special CVM tool steel for long-lasting service life
Perfect in confined spaces and has parallel flats for roll-off prevention
Dual durometer construction for long-lasting durability
Handle sized proportionate to the blade for consistent mechanical advantage
Satin finish for corrosion protection
SKU: 38048
UPC: 084705380483
Weight lb: 0.2 lb
Product Depth Inches: 1.5"
Product Width Inches: 3.8"
Product Height Inches: 5.9"
Packaging: Clamshell
SKU: 38048
Weight lb: 0.2 lb
UPC: 084705380483