TerminatorBlue Impact Bit Square #2 - 3.5 Inch - 2 Pack
Wiha Pro Rewards members earn 1 point per $1 spent.
Sign up for Pro Rewards to start earning points.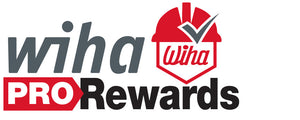 Terminate screws faster—and with fewer broken bits. Wiha's TerminatorBlue Impact Bits—proven toughest. TerminatorBlue Bits are impact rated for power tools and rigorously heat-treated to produce a bit lasting 120 times the service life compared to standard bits. Wiha's specially designed torsion zone absorbs 30 times the impact energy compared to standard bits, allowing a maximum torsion flex that goes unmatched. With TerminatorBlue Impact Bits you get the tightest-fit precision-machined Square driver tips from the company that sets the standard for precision. Wiha's exact-fit Square tips eliminate excessive bit-wobble for increased driver accuracy. The result is a highly stable engagement with the screw head and a reduction in fastener cam-out that can lead to injury or damage to finished materials.
TST™ Torsion Stabilizing Technology for maximum flex and reduced tip stress
Computer-controlled heat treatment for 120 times service-life over Wiha standard bits
Tuned torsion zone for maximum flex and reduced tip stress
CVM premium quality tool steel for strength and durability
Exact fit precision machined Square tips for reduced cam-out
Fit with a standard 1/4 inch hex drive
Bit lengths available: 1-inch; 2-inch; 3.5-inch
Impact-rated for power tool applications
Minimum hardness tolerance of 61 RHC +/- 1
SKU: 70325
UPC: 084705703251
Weight lb: 0.1 lb
Product Depth Inches: 0.28"
Product Width Inches: 1.8"
Product Height Inches: 5.69"
Packaging: Blister
Overall Length Inches: 3.5″
Overall Length Millimeters: 70
SKU: 70325
Weight lb: 0.1 lb
UPC: 084705703251