4 Piece Torque QuickCheck Testing Device Kit
Wiha Pro Rewards members earn $10.35 USD worth of points.
Sign up for Pro Rewards to start earning points.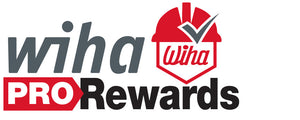 Applying the wrong torque can lead to serious consequences during delicate screw fastening tasks. The result is often damage to materials, a great deal of rectification work and warranty claims. With the Torque QuickCheck from Wiha, you can quickly and easily test the iTorque® and TorqueVario torque screwdrivers to check the precision of the set torque value before each use. Checking tools regularly guarantees reliable, precise work. Torque QuickCheck also impresses thanks to its user-friendly testing procedure: The Wiha torque screwdriver concerned is inserted into Torque QuickCheck together with the enclosed adapter blades to verify how precise the torque tool is. The LED light then clearly indicates the result in traffic light colors. Thanks to its compact, handy shape, the Torque QuickCheck is the ideal companion when out on jobs.
Set Includes: Adapter blades, LED traffic light system display, and batteries
Compact shape provides fast and easy checking of your torque tools
LED traffic light system displays results in a way which is quick and easy to understand
Checking your torque tool regularly guarantees safe and precise work with the correct torque
Only suitable for all Wiha torque screwdrivers which can be configured to a check value of 2.8 Nm
SKU: 28897
UPC: 084705288970
Weight lb: 1.42 lb
Product Depth Inches: 9.75"
Product Width Inches: 7.10"
Product Height Inches: 4.00"
SKU: 28897
Weight lb: 1.42 lb
UPC: 084705288970