SoftFinish TorqueVario-S 0.8-5.0 Nm
Wiha Pro Rewards members earn $8.15 USD worth of points.
Sign up for Pro Rewards to start earning points.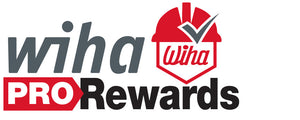 Wiha SoftFinish TorqueVario screwdrivers have variable torque settings that can be adjusted in increments using an adjustment tool. The torque display scale shows the exact torque setting. When turning the driver will emit and audible click once the torque setting has been attained and automatically resets for the next torque cycle. The TorqueVario handles are designed to work with Wiha Torque Control Blades. There are bit and socket adapters that allow for using the torque driver in a variety of applications.
Tools Marked with Serial No. Include Calibration Certificate
Meets ASME B107.14m, EN ISO 6789, BS EN 26789
Quality Accuracy Guaranteed to 5000 Cycles
Laser Calibrated Scale Marked, Serialized for traceability
Enclosed Mechanism Ideal for production controlled environments
+/-6% accuracy tolerance Certificate of calibration
SoftFinish cushion grip handle
Audible and perceptible click when the torque setting has been attained, automatically resets for next torque cycle
Includes Torque setting adjustment tool and ¼" bit holder
Newton Meter Scale. 0.8 - 5.0Nm | .20Nm Increments.
SKU: 28418
UPC: 084705284187
Weight lb: 0.7 lb
Country of Origin: Germany
Product Depth Inches: 8"
Product Width Inches: 1.4"
Product Height Inches: 1.4"
Packaging: Plastic Tube
Overall Length Inches: 8″
SKU: 28418
Weight lb: 0.7 lb
UPC: 084705284187
Set Items:
Wiha 28553 - SoftFinish TorqueVario-S Handle 0.8 - 5.0 Nm