Torx Wing Handle Drivers
Wiha Pro Rewards members earn 1 point per $1 spent.
Sign up for Pro Rewards to start earning points.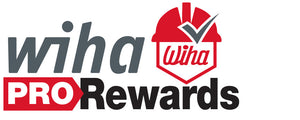 Wiha Torx Wing handle screwdrivers are built for high torque transfer with small screws. The wider handle creates even more torque than Wiha's similar flag handles. Wing handles have a molded wing and a top grip knob to allow for rapid spinning of the driver. Torx wing handles are commonly used in the CNC machining industry, and knife maintenance. 
The screwdriver blades are made of premium quality tool steel for strength and durability and are through hardened for best wear resistance and have a black coating for corrosion resistance. 
Wiha's exact-fit Torx tips eliminate excessive bit wobble for increased driver accuracy. The result is a highly stable engagement with the screw head and a reduction in fastener cam-out that can lead to injury or damage to finished materials.
SKU: 36534
UPC: 084705365343
Weight lb: 0.2 lb
SKU: 36534
Weight lb: 0.2 lb
UPC: 084705365343
SKU: 36511
Weight lb: 0.2 lb
UPC: 084705365114
SKU: 36514
Weight lb: 0.2 lb
UPC: 084705365145
SKU: 36536
Weight lb: 0.2 lb
UPC: 084705365367
SKU: 36537
Weight lb: 0.02 lb
UPC: 084705365374
SKU: 36538
Weight lb: 0.02 lb
UPC: 084705365381
SKU: 36534
Weight lb: 0.2 lb
UPC: 084705365343